Marc Ronet Architecture Navale
Vert d'O

Draw within the Ribadeau Dumas office, this day boat is a perfect combination of classicism and modernity. With her overhang, her wooden deck, her little roof and her varnished coaming, she has esthetic's code of classic boat. The adoption of modern solutions like a strip-planking hull, modern appendages or a efficient rigging guarantee light displacement, performance and a very pleasant helm's feeling. This boat had been powered with an electrical motor.

Length: 8.90m Draught: 1.7m Displacement: 1.2t Sail area GV: 22,7m2 Genoa: 11,6 m2 Spi: 38 m2




click to enlarge

Baidarka

The intellectual curiosity is at the origin of this project: intrigued by the very particular hull shape of this aleutian kayak (Aleutian island, north Pacific), Marc Ronet have compared the empiricism of traditionnal construction to the rigour of numerical analysis. The construction of this replica have been realized in parrallel of a numerical simulation study. (see picture here)

Construction: As the original, the skin-covered structure is only built using lashing. The long hull shows a main section placed rear from amidship, a bifid bow and a deep V-bottom section.

Lenght: 5.40m Beam: 0.5m Weight: 18kg Material: yellow pine, willow frame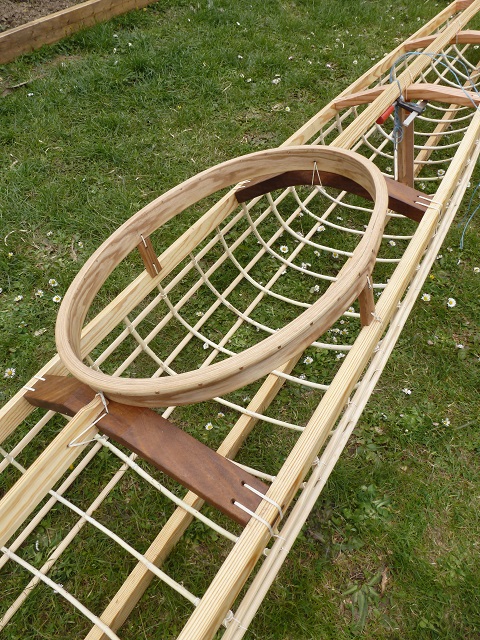 clic on picture to enlage

Numerical analysis: The Baidarka's hull has been compared with a modern sea kayak's hull one the same length, beam and displacement. If at low speed, both are similar, the baidarka turns out faster when speed increases. Thus at 5 knots, the gain in propulsive power is close to 20%.

Hermione

For 6 years, I was part of the design team in charge of the studies and the supervision work of the Hermione's construction. As such, I have drawn 500 technical drawings necessary for the yard:
- Structure and fastenings drawings
- Rigging and spars drawings
- Ground tackle, rudder, cutwater…
- Forged hardware and fittings
Besides the study work, I have supervised the work on each weekly visit.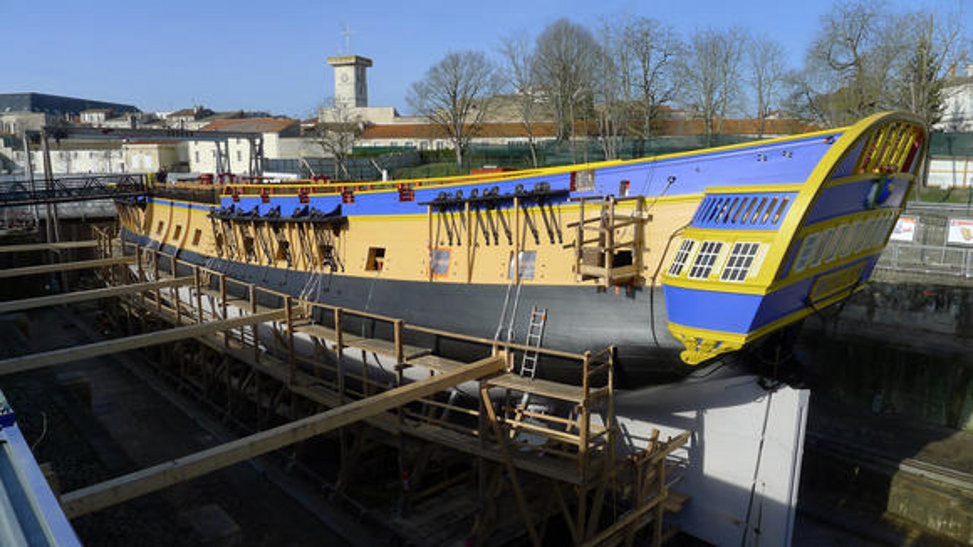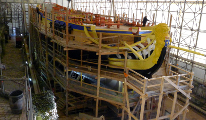 click to enlarge

Hemione's longboat

In parallel of the frigate's work, the three Hermione's longboats were built. After historical research in the naval architecture's manual of this period and visits in marine museum, the complete set of drawings have been redrawn. True to the historical way of construction, the longboats are exclusively made of oak. Handmade sails, forged hardware contribute to the strong feeling of authenticity of this boat built by the Alexandre Genoud Bateau Bois Shipyard. .
See article from the Chasse marée n°206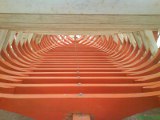 click to enlarge
Toue Cabanée

Developed in collaboration with the ABR shipyard located in Bouguenais (near Nantes), I have drawn this Toue Cabanée when I was working for the GRD office. Designed to be used as a bed and breakfast on the Loire river, this Toue had to be reliable and functional. Built in aluminum, with a double bottom hull, twin engine and twin rudder, this configuration guarantee safety and good maneuverability. The timber framing house will equipped with all modern comforts. The inner cockpit provides user-friendliness and conviviality.

Based on the same hull principle, diverse kinds of Toue can be studied, notably for living or passenger purpose: . See other Toue's projects



Longeur 14.90 Largeur 3.00 Déplacement 9.0t




click to enlarge
Marc Ronet Architecture Navale - Nantes (France) - 00 33 6 30 25 87 44 -
contact